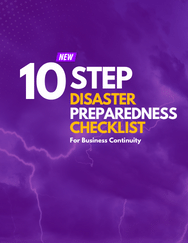 Can Your Business Weather the Storm?
Try our FREE Disaster Preparedness Checklist to find out!
Preparing your IT infrastructure so it continues to function in a disaster is critical.
A good Business Continuity plan can safeguard your company from the unforeseen effects of a disaster like a hurricane, flood, or fire. Avoid exposing yourself to storm damage and other avoidable risks such as downtime and loss of data, revenue, or assets.
Download this quick 10-point checklist to make sure your business is prepared today! Our checklist gives you a benchmark to identify areas your team may need to work on like having an up-to-date secondary backup.
With the help of Cloud Carib's disaster recovery solutions, your business can continue operating normally, avoid disruptions, and cut down downtime during unforeseen situations.
Download the checklist now!