On September 7th, 2022, members of the Caribbean Telecommunications Union (CTU), the Government of The Bahamas, and Cloud Carib gathered at the CTU ICT Week conference to sign off on an MOU in support of a regional single ICT space. The MOU is a testament to the member states within the CTU and Cloud Carib's dedication to the region's vision for a single ICT space and our focus on achieving that vision with each member state before 2030.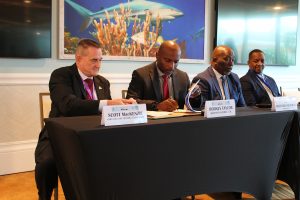 A single ICT space within the region would foster economic, social, and cultural integration for the betterment of Caribbean citizens. Cloud Carib has committed to participating in this initiative by delivering services aligned with Sovereign Cloud, Data Residency, Data Sovereignty, Mission Critical Services, and Cybersecurity in support of the CTU member states' digital transformation initiatives.  
Rodney Taylor, Secretary General of the CTU stated "We're looking forward to signing the MOU with Cloud Carib, a member of the CTU, with regionally deployed ICT infrastructure we're trying to simplify approaches that we're taking across the region to move our regional governments forward'. 
"We, all members of the CTU, should be driven to protect future generations. And how we build protection for future generations is by driving a hyper competitive market and envisioning not the services of today, but those that will protect the future generations yet born," Cloud Carib Chief Executive Officer Scott MacKenzie said during Wednesday's press conference. 
"This MoU is simply one member's commitment to the member states, that there is a company dedicated to the region's vision of a single ICT space and our business is focused on realizing that vision with each member state before 2030. The CTU is our vehicle of collaboration and if this event has proven anything to me, it is the commitment of member states to realize the vision and not only discuss and debate change, but act and prove to the citizens and peoples of the region that we can make it happen before 2030."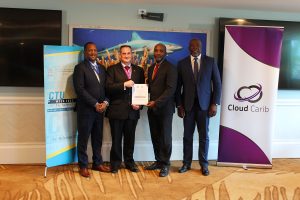 CTU's ICT week conference continued for the remainder of the week featuring Cloud Carib and other key members within the ICT community covering topics relating to cybersecurity, cloud sovereignty, the digital connectivity gap, and more.