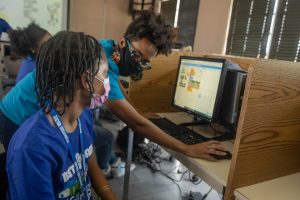 Now in its ninth year, BETA Camp Bahamas was finally able to return to in-person learning sessions for its annual 2-week camp with as many as seven different engineering streams ranging from software and mechanical engineering to aerospace engineering, rocketry, and even a bio-medical engineering stream. The camp, co-founded by Bahamian engineers Trenicka Dukes and D'Andre Wilson-Ihejirika, is dedicated to teaching and inspiring the next generation of Bahamian engineers to harness the technology around them and create opportunities for engineers and address vital infrastructure issues across the country.
For a fourth consecutive year, Cloud Carib returned as a patron of the annual BETA camp as a Bronze Sponsor. Providing prizes for first and second place winners for the final project, the design competition.
"Part of our mandate is to help create and mold the next generation of tech industry professionals and we take that responsibility very seriously," explained Cloud Carib Founder and Chief Technology Officer Stelios Xeroudakis. "We know students benefit from an opportunity to spend time with mentors in the STEM fields and we wanted to continue being a part of these incredible initiatives."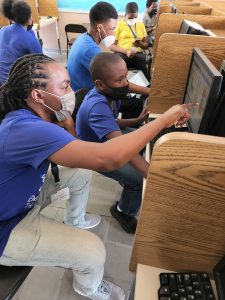 Over 55 students ranging in grades from 7th-9th took part in this year's BETA camp capped by a final competition with 'Bahamas 2050: Engineering the Future' as its theme. "The BETA team was really excited to resume an in-person camp and with this year's theme centered around engineering the future, Bahamas 2050, it was vital that we help students realize the careers that are shaping the future and how they can play a key role in its development. Providing that exposure and experience now can and will make a difference. We must equip our youth to employ and expand the countries' presence in the areas of STEM", said Trenicka Dukes, Co-Founder and President of BETA Camp Bahamas.
The week of work culminated in a special competition which gave participants the opportunity to put everything they learned to use. Students were judged on their technical content, problem solving abilities, as well as the feasibility and relevance of their overall presentation. The first-place team designed a system to purify and filter sea water at a large scale to supply free water to Bahamian residents and the second-place prize went to the team who designed a bus system that would run off biofuel to help transform public transit issues in the country.
This year, the founders of BETA Camp also launched their Future Leaders Innovating to Go Higher in Technology (F.L.I.G.H.T.) Camp in collaboration with the Canadian organization BrainSTEM Alliance, the University of Waterloo in Canada, and the University of the West Indies for underrepresented youth interested in STEM fields. The camp was hosted at the Cloud Carib Centre of Excellence (CoE) in The Bahamas for girls aged 14-18 years to learn innovation and entrepreneurship concepts.
The F.L.I.G.H.T. Camp concluded this August with 28 students participating from 6 teams, and 8 countries. With 18 students attending virtually and 10 girls attending in person from Cloud Carib's Centre of Excellence in The Bahamas. This was another successful BETA Camp event – pushing more underrepresented groups into the STEM fields not just in the Caribbean but globally.