Bridgetown, Barbados  – Caribbean tech firm Cloud Carib and their partner VMware, a global leader in cloud computing and virtualization software recently sponsored and played a pivotal role at the Caribbean Telecommunications Union (CTU) ICT Week 2023, held in Bridgetown, Barbados earlier this month.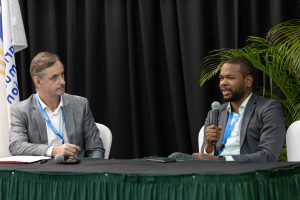 Under the theme "Embracing a Digital Caribbean: Opportunities for Growth and Innovation," the conference brought together key stakeholders from across the Caribbean region to discuss the latest trends and developments in the Information and Communications Technology (ICT) sector. The panel highlighted the efforts needed to support innovation, governance, and sustainability within the region.
The panel discussion hosted by Cloud Carib and VMware titled "Innovate, Govern, Sustain: How Sovereign Cloud Supports Caribbean Digitalization" featured an esteemed lineup of thought leaders – both local and international experts who engaged in insightful discussions on data protection, digital sovereignty, and the role of the Caribbean's digital economy.
The panel, which was moderated by Eamonn Sheehy, Director of Public Sector at Cloud Carib also featured Carlos Oliveira, Counsellor for Information Society and Digital Market, European Union External Service – EU Delegation in Brazil, Mr. Richard Damoser, Director of Cloud Sales, Strategy, and Planning (VCPP) at VMware, and Mr. Bartlett Morgan, Attorney-at-Law & Managing Director of Chancery Advocates, Barbados.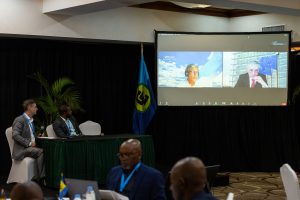 During the exchange, the panelists highlighted the many aspects of Sovereign Cloud, including the National Digital Governance Sovereignty Framework and its potential $300 billion economic impact. This framework provides a key set of guidelines for Caribbean governments to develop and implement their own sovereign cloud solutions covering a range of areas, including data sovereignty, cybersecurity, and regulatory compliance to enable cross-border transactions and regional business development. In a nutshell, this would enable governments to handle data protection, online security, and regulations for international business related to data.
The panelists concluded with key challenges and opportunities for adopting sovereign cloud in the Caribbean which includes the lack of awareness of sovereign cloud among Caribbean governments and businesses and recommended that regional governments prioritize data sovereignty to promote digitization and provide the necessary human skills for digital transformation.
Mr. Sheehy expressed his gratitude for a successful panel stating,
We believe that the panel discussion was a valuable opportunity for experts to exchange ideas and share insights on this important topic, and we look forward to continuing to work with CTU and other stakeholders to promote the adoption of sovereign cloud in the Caribbean."