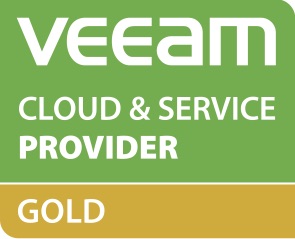 Cloud Carib Limited, has been awarded Gold Cloud and Service Provider (VCSP) status by Veeam Software, the innovative provider of solutions that enable Availability for the Always-On Enterprise™.
Cloud Carib joins a select few gold service providers in the Caribbean and Latin American region. This partnership level is achieved by meeting several requirements in the areas of performance and capabilities. Cloud Carib is well placed to deliver Veeam availability solutions and already leverages their technologies to deliver the regions leading backup and disaster recovery solutions as a service.
Cloud Carib was awarded the 2016 Veeam Impact Partner of the Year Award for the Caribbean and is also a Veeam Platinum ProPartner.
"We're pleased to announce that we've been awarded Gold Cloud and Service Provider status with Veeam Software. Veeam is a strategic partner of great importance to our organization. This gold status represents our commitment to remaining at the forefront of security, protection and disaster recovery solutions," says Mark Arruda, Vice President of Solutions at Cloud Carib.
The upgrade to gold status ensures that Cloud Carib can continue to provide clients Veeam products while retaining a competitive pricing structure and offering expertise in the most recent and innovative Veeam technologies.
"Cloud Carib is one of our most valued partners in the Caribbean and Latin American region," said Sara Wilson, Director of LATAM Channels at Veeam. "Our partnership enables us to provide Veeam solutions to our joint customers, empowering them to meet the ongoing demands of 24.7.365 availability. We congratulate Cloud Carib on receiving their Gold Service Provider status and we look forward to a future of collaboration and success."
About Cloud Carib
Cloud Carib offers enterprise-grade, private and hybrid cloud solutions built upon the principles of delivering quality, agility, and value.  Providing clients with controlled costs, unrivaled levels of service, and unparalleled levels of data protection and privacy.  Cloud Carib's services enable a true competitive advantage for each client that is unmatched in most of the world. Headquartered in the Bahamas, and offering multiple datacenter locations throughout the Caribbean (Freeport, Nassau, Panama, Barbados and Jamaica), Cloud Carib's solution portfolio includes: IaaS, security, business continuity, productivity and mobility solutions, along with professional services and multiple VAR options. Find out how Cloud Carib will make your business more competitive today: www.cloudcarib.com.