(The Bahamas) December 5, 2017 – Cloud Carib is excited to announce it has been recognized by Cisco as a Collaboration Partner of the Year for Architectural Excellence in the Americas and CANSAC regions. Cisco unveiled the winners during its annual partner conference taking place in Dallas, Texas. This award demonstrates Cloud Carib's ability to consistently deliver collaborative cloud solutions that transform organisations and help support and facilitate their journey to the cloud.
Cloud Carib is a certified Cisco Partner in the Americas and CANSAC region, and works collaboratively to design and architect solutions that are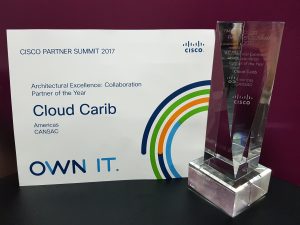 business outcome-focused. Together with Cisco, Cloud Carib delivers innovative solutions for their clients using best-in-class methodologies and technology.
"Cisco is fortunate to work with the leading channel partners in the Americas and CANSAC who help organisations achieve positive business outcomes by taking advantage of the digital transformation opportunities," said Pablo Gonzalez Simon, Director of the Partner Business Group for Cisco. "It is my privilege to recognize that the Partner of the Year for Architectural Excellence has been presented to Cloud Carib for its outstanding achievement as a Cisco channel partner in the Americas and CANSAC."

"We're proud to accept this award and honored that Cisco has chosen Cloud Carib as a Collaboration Partner of the Year for Architectural Excellence in the Americas and CANSAC," said Stelios Xeroudakis, Founder and Chief Technology Officer at Cloud Carib. "We continue to expand throughout the region and look forward to supporting more organisations with digital transformation, as well as growing our partner relationship with Cisco."
Awarded to channel partners who rise to business challenges, the Cisco Partner Summit Global awards are designed to recognize superior business practices and reward best-in-class methodologies. Areas of consideration include innovative processes, architecture-led successes, strategic business outcome-focused programs, seizing new opportunities, and sales approaches.
Cisco Partner Summit awards reflect the top-performing partners within specific technology markets across the globe. All award recipients are selected by a group of Cisco Global Partner Organization and regional and theatre executives.
About Cloud Carib Limited
Cloud Carib is the regions premier provider of managed cloud services founded upon the principles of delivering quality, agility, and value for every client.  Solutions range from complex bespoke dedicated private cloud offerings to hybrid cloud services.  Every solution provides clients with controlled costs, unrivaled levels of service, and unparalleled levels of data protection and privacy – when and where privacy matters.
Cloud Carib's services enable a true competitive advantage for each client that is unmatched in most of the world. Headquartered in the Bahamas, and offering multiple data centre locations throughout the Caribbean (Freeport, Nassau, Panama, Barbados, Jamaica and Ecuador), Cloud Carib's solution portfolio includes: Data Centre Services, Security and Business Continuity Services, and Mobility and Productivity Offerings. For more information, please visit www.cloudcarib.com.
Cisco and the Cisco logo are registered trademarks or trademarks of Cisco Systems, Inc. and/or its affiliates in the United States and certain other countries. All other trademarks mentioned in this document are the property of their respective owners. The use of the word partner does not imply a partnership relationship between Cisco and any other company.