7th Annual Talkin' Cloud 100 Report Identifies Top Cloud Services Providers
(The Bahamas) December 7, 2017 – Cloud Carib Ltd., a leading managed cloud services provider in the Caribbean and Latin American region, today announced it ranks 42nd among the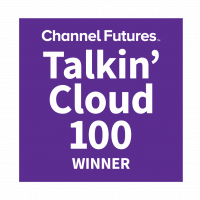 world's Top 100 cloud services providers (CSPs), according to Channel Futures seventh-annual Talkin' Cloud (TC) 100 report.
The full report is available now by visiting ChannelFutures.com.
Based on data from Channel Futures' online survey, conducted between August to October 2017, the TC 100 list recognizes top cloud services providers (CSPs), including MSPs, hosting companies, cloud consultants and more. Rankings are based on annual cloud services revenue growth, and input from Chbannel Futures editors.
"Cloud Carib is honoured to rank 42nd among the world's Top 100 cloud services providers, rising 50 spots from 2016" said Scott MacKenzie, Chief Commercial Officer at Cloud Carib. "This recognition is a testament to our significant growth over the last year, and our commitment to empowering organisations with managed cloud solutions in the Caribbean and Latin American region."

"On behalf of Channel Futures, I would like to congratulate Cloud Carib for its recognition as a Talkin' Cloud 100 honoree," said Nicole Henderson, a contributing editor at Channel Futures who oversees the TC 100 project. "The organizations on this year's list demonstrate everything from technological prowess to thought leadership to business excellence across a number of functional disciplines. If you want to understand where the market is heading, watch these companies in 2018."
About Cloud Carib
Cloud Carib is the region's premier provider of managed cloud services founded upon the principles of delivering quality, agility, and value for every client.  Solutions range from complex bespoke dedicated private cloud offerings to hybrid cloud services.  Every solution provides clients with controlled costs, unrivaled levels of service, and unparalleled levels of data protection and privacy – when and where privacy matters.
Cloud Carib's services enable a true competitive advantage for each client that is unmatched in most of the world. Headquartered in the Bahamas, and offering multiple data centre locations throughout the Caribbean (Freeport, Nassau, Panama, Barbados, Jamaica and Ecuador), Cloud Carib's solution portfolio includes: Data Centre Services, Security and Business Continuity Services, and Mobility and Productivity Offerings. For more information, please visit www.cloudcarib.com.
About Informa
The Channel Futures brand is part of Informa which operates at the heart of the Knowledge and Information Economy. It is a leading business intelligence, academic publishing, knowledge and events business. With more than 7,500 employees globally, it has a presence in all major geographies, including North America, South America, Asia, Europe, the Middle East and Africa.  For additional information on Informa, visit www.Informa.com and for information on Channel Futures, visit www.ChannelFutures.com.
Media Contacts:
Cloud Carib Ltd.
+1 242 603 0800
media@cloudcarib.com
Channel Futures:
Nicole Henderson, Content Director, Channel Futures and ITPro
nicole.henderson@informa.com