Leading provider of managed cloud services in the Caribbean, Cloud Carib, recently attended the exclusive VMware Partner Summit in Rancho Palos Verdes, California. Leading partners from all over the world were invited to participate, including the Caribbean.
As a top VMware partner in the region, Cloud Carib was excited to participate in this elite gathering of Virtualization and Cloud Computing industry leaders. At the summit, VMware launched its Cross-Cloud Managed Services, a powerful suite of managed solutions designed to streamline cloud operations, enhance networking, and improve compliance. This new service will help organizations like Cloud Carib and their client base achieve improved governance, security, and cost-effectiveness.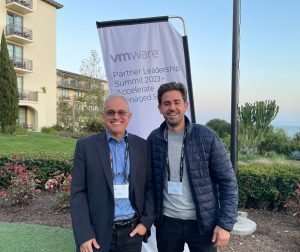 Stelios Xeroudakis, Founder & CTO of Cloud Carib, expressed his gratitude for representing the company at such a prestigious event. "We are committed to providing our clients with the most advanced and innovative solutions to meet their evolving needs," he said. "This summit is a unique opportunity to learn from and collaborate with industry experts and peers, allowing us to stay at the forefront of the industry and deliver unmatched value to our clients. We're determined to keep advancing technology in the Caribbean at every possible opportunity."
Cloud Carib's participation in the VMware Partner Summit further reinforces the company's commitment to providing cutting-edge solutions to the region and cementing its position as the leading provider of managed multi-cloud services and Sovereign Cloud in the Caribbean. Additionally, this event gave Cloud Carib an exceptional chance to connect, collaborate, and explore the latest trends and technologies shaping the future of multi-cloud services.