Cloud Carib joins an extensive global network of cloud experts gaining STAR Level One status

Cloud Carib announced this month that it has joined the Cloud Security Alliance (CSA), as the only firm in the region to receive the highly sought 'Trusted Cloud Provider' badge. The CSA is the world's leading organization dedicated to defining and raising awareness of best practices to help ensure a secure cloud computing environment.
Since its inception ten years ago, Cloud Carib has worked to build a reputation of excellence focusing on high trust cloud services and data sovereignty in the Caribbean and Latin America. Now, the company is highly regarded as the premier cloud services provider in multiple verticals across Latin America and The Caribbean. For Cloud Carib, joining the CSA represents the furtherance of the company's commitment to bringing secure, resilient cloud services to the region. With data centres in Jamaica, Barbados, Panama, Ecuador, and Nassau and Freeport, both in The Bahamas, Cloud Carib's Chief Executive Officer Scott MacKenzie says the company's accession to the CSA is proof of its dedication to not only delivering the highest quality services globally but also ensuring the secure digital transformation of the region.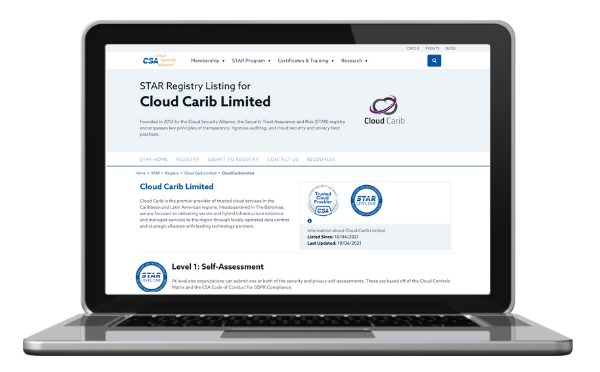 "Our mandate, since the very beginning, has been to meet and exceed the expectations of our clients at every level," explained MacKenzie. "To meet that mandate, we continue to create and maintain relationships with our various technology and industry partners who have been instrumental in meeting the ever-evolving data security strategies needed to advance the region. The CSA's dedication to ensuring secure cloud computing environments is in line with our company's ongoing focus on promoting greater data sovereignty, so being accepted as its newest member is another feather in our cap which aligns with our growth strategy."
As a member of CSA's Trusted Cloud Provider program, Cloud Carib extends its industry credibility by demonstrating its commitment to holistic security through training, education, and contributing to the community through volunteering and cloud security evangelism. The company's ranking amongst the world's industry leaders was formally affirmed following the completion of CSA's knowledge requirements, making it the only Caribbean-based firm to achieve this designation.
Several members of the Cloud Carib team successfully completed CSA's Certificate of Cloud Security Knowledge (CCSK) examination. The certification, which is widely recognized as the standard of expertise, is the industry's primary benchmark for measuring cloud security skillsets. The CCSK is intended to provide an understanding of security issues and best practices over a broad range of cloud computing domains and is strongly recommended for IT auditors as well.
"This was a great opportunity for us to increase our company's overall knowledge base as well," MacKenzie explained. "Members of our team successfully completed the CSA's rigorous certifications, which tested our adherence to best practices and security knowledge so we're very proud of that," he said.
Cloud Carib's accession to the CSA comes as the company celebrates a decade of service excellence in the region and is a precursor to the introduction of the company's newest venture – The Cloud Carib Centre of Excellence.
"What we envisioned for our Centre of Excellence is a place where the technologists of tomorrow can collaborate and learn from each other as well as our global team of experts and partners," explained Cloud Carib's Founder and Chief Technology Officer Stelios Xeroudakis. "We've designed it to be a cutting-edge ICT facility which will attract and accommodate the next generation of industry professionals from across the Caribbean region and further lay the foundation for the Bahamas as a tech hub."

"The CSA is proud of the work we've done to nurture a knowledge-based community and our extensive network of member organizations — from providers and customers to governments, entrepreneurs, and the assurance industry. We are excited about the growth that we've seen from Cloud Carib and are pleased to welcome them and their expertise to our group of stakeholders as we remain committed to providing a forum through which diverse parties can work together to create and maintain a trusted cloud ecosystem," said Jim Reavis, co-founder, and CEO, Cloud Security Alliance.