Cloud Carib becomes one of only six Trusted Cloud companies globally to attain the coveted CSA STAR Trusted Cloud + Level Two Attestation
Committed to maintaining exceedingly high security and compliance standards along with service excellence, Cloud Carib Limited, the regional leader in managed services, has announced that it has achieved the Cloud Security Alliance Security, Trust, Assurance, and Risk (CSA STAR Level Two) attestation, demonstrating their commitment to implementing best practices in cloud security and providing top-quality services globally.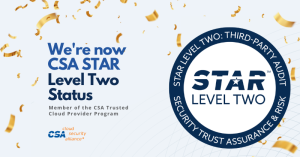 After earning the CSA STAR Level One certification in 2021, this latest achievement demonstrates the company's extensive commitment to meeting stringent standards, regulations, and frameworks executed by Fortune 500 companies as one of only six CSA Trusted Cloud companies worldwide to obtain the coveted Level Two status.
In today's digital landscape, customers are increasingly concerned about the security of their personal and financial information, and they want to know that the companies or governments they do business with are taking steps to protect it.
The CSA STAR Level Two is a prestigious recognition that is awarded to organizations that meet the CSA's rigorous security standards. It requires companies to have a formal risk assessment process in place and to meet the CSA's requirements for training, documentation, and policy development. Additionally, the  CSA STAR program is designed to help customers assess and select a cloud service provider through a three-step program including a self-assessment, third-party audit, and continuous monitoring. By achieving Level Two status within the program, Cloud Carib assures its clients of their commitment to providing secure cloud computing and highlights the breadth of our security practices.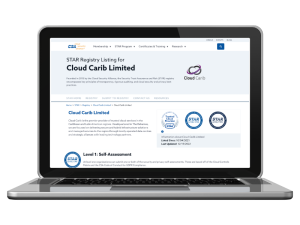 The regional provider, established over a decade ago, has gained a strong reputation for providing trustworthy cloud services and data sovereignty in the Caribbean and Latin America, and the company is now recognized as a leading provider of cloud services in various industries in these regions. Membership in the Cloud Security Alliance (CSA) is a continuation of Cloud Carib's commitment to offering secure and resilient cloud services in the area, noting that their clients can trust that their data is being handled with the utmost care and attention, even as technology and threats evolve.
As Cloud Carib continues to grow, security compliance will remain at the forefront of how the company develops its solutions, processes, and teams, as security and data privacy are top priorities for our clients. Last year, Cloud Carib became SOC 2 compliant, providing customers with more transparency regarding the company's security posture. Deno Cartwright, Cloud Carib Internal Audit and Compliance Manager, stated, "Today, we take our commitment to security one step further with our STAR Level Two attestation. These certifications demonstrate our dedication to maintaining industry-recognized security standards and protecting our customers' services and infrastructure."
"Many customers frequently worry that regional businesses won't be able to adhere to the highest regulatory standards. However, this certification is proof that Cloud Carib and the Caribbean are not only competing but excelling internationally," Cartwright added.
Cloud Carib's CSA STAR Level Two achievement is a significant milestone in the company's journey as a trusted provider of cloud services committed to continuing to invest in their cloud environments and meeting the highest industry standards for security and compliance.
About Cloud Carib
Cloud Carib is the region's premier provider of managed cloud services founded upon the principles of delivering quality, agility, and value for every client. Solutions range from complex bespoke dedicated private cloud offerings to hybrid cloud services. Every solution provides clients with controlled costs, unrivalled levels of service, and unparalleled levels of data protection and privacy – when and where privacy matters.
About Cloud Security Alliance
The Cloud Security Alliance (CSA) is the world's leading organization dedicated to defining and raising awareness of best practices to help ensure a secure cloud computing environment. CSA harnesses the subject matter expertise of industry practitioners, associations, governments, and its corporate and individual members to offer cloud security-specific research, education, training, certification, events, and products. CSA's activities, knowledge, and extensive network benefit the entire community impacted by cloud — from providers and customers to governments, entrepreneurs, and the assurance industry — and provide a forum through which different parties can work together to create and maintain a trusted cloud ecosystem. For further information, visit us at www.cloudsecurityalliance.org, and follow us on Twitter @cloudsa.