Nassau, Bahamas – This summer, BETA Camp (The Bahamas Engineering and Technology Advancement Camp) celebrated a significant milestone by hosting its 10th annual STEM-based program, offering students a transformative hands-on experience in Science, Technology, Engineering, and Math. As a steadfast advocate of STEM education and youth development, leading Bahamas-based tech firm Cloud Carib proudly reaffirmed its commitment by sponsoring the camp and judging its culminating event, the BETA Camp Design Challenge.
The 2023 BETA Camp Design Challenge took place at St Johns College, Nassau, Bahamas, on Saturday, July 29. As a sponsor for the past seven years, Cloud Carib's continuous support has played a pivotal role in making this event a resounding success. Recognized as the #6 Managed Service Provider (MSP) in recent global rankings, Cloud Carib's reputation for excellence extends beyond its technical expertise.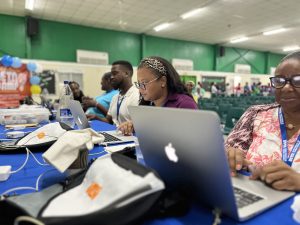 As part of its sponsorship, Cloud Carib provided financial support, ensuring the seamless operation of the annual STEM-focused camp which brought together ten teams of enthusiastic students, all tasked with presenting innovative solutions to diversify the Bahamian economy.
During BETA Camp's 2023 Design Challenge, Cloud Carib's Marketing Operations Manager, M'khel Ferguson, enthusiastically joined as a judge. "We're always dedicated to supporting STEM education and investing in the future of Bahamian youth. Seeing the excitement and creativity displayed by the kids was truly inspiring. The Design Challenge continues to be a testament to the incredible potential of Bahamian youth in driving meaningful change and progress," said Ferguson.
"This year's challenge focused on addressing the critical issue of diversifying the Bahamian economy. Participants were tasked with proposing groundbreaking ideas to drive economic growth and development in the country and the teams really did not disappoint," said President and Co-Founder Trenicka Dukes.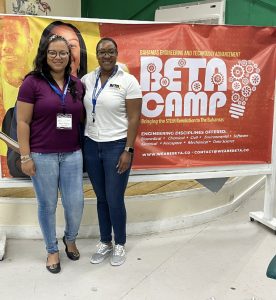 Among the innovative ideas presented were concepts including Bahamian bush tea distribution on a global scale, limestone production, aquaculture, and textiles/clothing manufacturing. Each project demonstrated a unique approach to tapping into the country's resources and cultural heritage to drive economic prosperity.
Ultimately, the top spot was secured by Camani Cleare, Damir Gardiner, and Gabriel Williams, whose project centered on transforming the local aragonite industry. Their visionary proposal impressed the judges with its potential to positively influence the economy.
Through its continued sponsorship and engagement in organizations such as BETA Camp, Cloud Carib continues to foster a culture of innovation and technical excellence in The Bahamas and the region at large.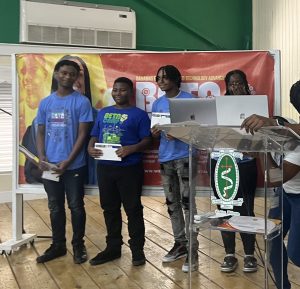 To learn more about BETA camp, visit http://wearebeta.co/